Director : Jill Kelly
Photography : Jack Remy
Cast : Nikki Benz, Tyler Faith, Delilah Strong, Randy Spears, Tommy Gunn, Grant Michaels, Buster Good, Christian XXX
Running Time : 92 mins

DVD Extras : Chapter selection, trailers, photo galleries, behind-the-scenes

Trailers : "100 % Blow-Jobs #34", "Perfect Pink #20", "Little Whore that Could"

Behind-The-Scenes : It's a bit weird that Jill, who's credited as the director, is nowhere to be seen. Nevertheless, as usual in JKP sets, everyone's laid-back & seem to be having a good time. Tommy improvises a stripper routine, Nikki decides she will now be known as Serena Pink, so don't fuck with her, and Tyler cannot take much more chocolate & ice-cream on her pussy. It's all very much a blast but the never-ending muzak drowns everybody's voices.

Short Story : A series of 5 colorful, Lachapellian vignettes united by bonbons, lollipops & all things lickable.


SCENE BREAKDOWN :

1) NIKKI BENZ & RANDY SPEARS




Nikki sucks on a lollipop while Randy strokes his knob besides her. Up goes the lollipop over Nikki's shoulder as she realizes Randy's got much more delicious candy begging to be eaten. Nikki looks quite delicious herself with long curly hair & colorful bra. She imprisons her lovers' rock-hard dick between her ample breasts, then impales herself on him in cowgirl for a while. Nikki looks too self-conscious throughout and never throws herself into the scene completely, though Randy cannot be blamed for lack of trying. He pretty much puts her through all the positions (including an excellent rabbit) and delays his orgasm for the longest time before unloading on her tits, but Nikki never really wakes up. Great videography with lots of full-body & chest shots though.

2) TYLER FAITH & GRANT MICHAELS




On another pastel-coloured set, Tyler with long curly hair greets buff Grant Michaels, all business-like in acid-green shortpants & a violet tie over bare chest. With pecs like these, you'd think you look good in everything but you're wrong. Anyway, who cares, as Tyler plunges head first onto Grant's hard dick with mouth-watering gusto, then lets him lick her snatch after some hungry French kissing. He grabs her leg to ease his dick in for a scissor missionary then they switch to, huh, scissor missionary ? Loop alert ! Similar to the previous scene, changes in position are often punctuated by short oral interludes. Ah, here comes the cowgirl, then they switch to doggy, which videographer Remy captures in typical no-nonsense, let's-not-waste-an-inch framework, and Michaels finally jacks on Tyler's chin. Michaels is still a bit green, but Tyler shows she's one of the few JKP contract girls who actually deserved her star status, carrying the scene entirely on her shoulders, while director Jill Kelly multiplies flattering shots of her male co-star.

3) NIKKI BENZ & TOMMY GUNN




Reality is boring. Enormous boobs & tiny waists, rock-hard dicks & abs of steel, inflatable blondes & gym bunnies. Viva American Porn ! Viva Nikki & Tommy ! The prom queen & her himbo run the gamut of positions with the utmost professionalism, looking awesome, the videography is flawless, the set & props add to the surreal feel, so what is wrong with this scene ? Nikki once again looks like she's rather go shopping, and who can blame her, because shopping is fun ! But come on, it's impossible to believe that just one of her innumerable "oh yeah" is genuine. She's trying so hard to look good that she forgets she's having sex, and I'm afraid the same can be said of Tommy. Beautiful candy indeed, but no taste. Doggy, cowgirl, mish, splash on her boobs.

4) DELILAH STRONG, CHRISTIAN XXX & BUSTER GOOD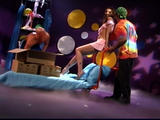 Both hunks spin pink-dressed Delilah around a wheeled cart, then drop their pants for some sucky-sucky because, you know, fun'n games, it can only last for a while. Natural brunette Delilah, in 30 seconds of getting her pussy licked by Christian, looks like she's taken more pleasure than Nikki in the entire previous scene. She sits on all fours, continuing to suck Christian while über-tattooed Buster prepares for entry in doggy, but Christian seems to experience some wood problems, so it cuts a bit abruptly to a twosome mish between Delilah & Buster. Christian reappears in better form for a twosome cowgirl while Buster jacks in the corner. For a threesome, the guys sure don't like to mix. This doesn't to seem faze Delilah, who bumps enthusiastically on her bald lover's dick until she's sure she can greet Buster again in her mouth without fear of wood loss on the other end. They alternate a couple of positions, then come on her chin. No DP, but still a pretty nice scene when it starts.

5) NIKKI BENZ & TYLER FAITH




This is the cherry on the cake. Or rather, in Tyler's vagina, but more on that later. Why does JKP insist on always saving the g/g for last, when it's usually their weakest link ? At least this one doesn't star Jenna Haze, so we'll be saved the soulless pouting, preening & pre-recorded dirty talk the formerly interesting brunette now specializes in. Or will we ? Nikki, in pink wig & mini-dress, is sharing her love of all things sugar & fat with similarly coiffed Tyler. It's a high-calorie-count lesbian tryst as they suck on candy dildos, slash caramel filling over their boobs, insert cherries into their pussies & even ICOGM (ice-cream to other girl's mouth). It sure is fun to watch (and it must have been even funnier to shoot), and Nikki does end up with her chest all sticky & gooey after this cholesterol bukkake, but is it sexy ? For sploshing fans only.


SO ? : For a video designed to showcase the talents of delectable buxom blonde Nikki Benz, her appearances in question are actually pretty forgettable. As in pretty and forgettable. You can always rely on JKP for providing the best eye-candy in couples' porn, and this one doesn't disappoint. Jack Remy's photography does the best out of a 5-star selection, but where is the passion ? Where is the spontaneity ? With a little more of these qualities, "Nikki's Land of Candy" could have been hot. As it is, it's only beautiful. Which is fine enough, depending on your priorities. A decent rental.
Check Prices for Nikki's Land Of Candy
The opinions expressed in this review of Nikki's Land Of Candy from Jill Kelly Productions are not necessarily the opinions of Adult DVD Talk. Adult DVD Talk provides a public forum for consumers to post their DVD reviews. Adult DVD Talk does not edit these reviews.